Conservatory Roof Conversion
Transform your conservatory into a comfortable, all year round living space…
The Guardian Warm Roof System is the biggest revelation to hit the home improvement market in the last ten years.
You can now change your old conservatory roof for a new Guardian Roof and effectively turn your old conservatory into a new extension that can be used all year round.
The complete changeover takes only three days with very minimal disruption to your household.
The Roof System is designed to replace the existing glass or polycarb roof of a conservatory while retaining the original windows, doors, frames and walls. At the same time providing substantial energy cost savings.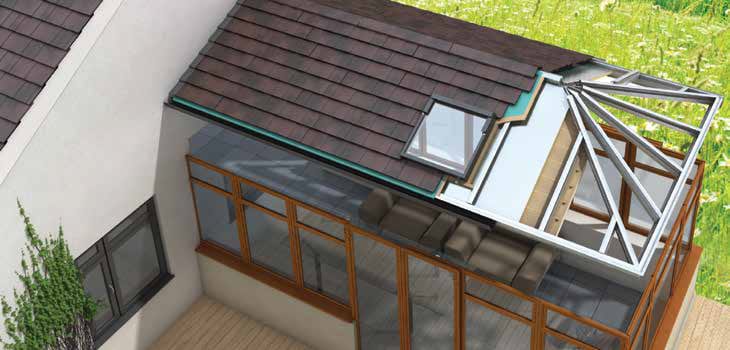 Fully tested and approved to all thermal and structural standards, the Guardian system is a high performance insulated roof system comprising of a pre-engineered lightweight frame, two layers of a rigid insulation board, internal insulated plasterboard, exterior grade plywood, vapour membrane and a choice of external tile finishes.
What's more...
With planning consent, internal dividing doors or walls can be removed to provide a permanent extension to your living room, kitchen etc.
If you would like to get a quote on converting your conservatory roof then please either complete the form below or call us on 0800 652 2820 to arrange your FREE no-obligation quotation.
Request your FREE no-obligation home survey